Our further services offered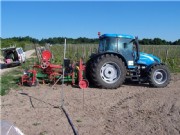 Grapevine plantation by machine
Our service of grapevine plantation by maschine has been offered for nearly 30 years now in Austria as well as in other countries and has been accepted by our customers with full satisfaction. Using modern laser-guided planting machines, we are able to adjust planting depth, vine stock planting distance and slope individually.

Vineyard clearing by machine
Using a special digger, old vine stocks can be removed from soil fast and efficiently.
Providing expert service
The Kober & Kohlfürst Viniculture – company is chaired by internationally operating qualified agricultural engineers. Expert service and advice both are available concerning various aspects, and we provide support and solutions regarding biological, economical, plant cultivation, technical and machine problems.

Trade and development of special machines for grapevine production

Trade with auxiliary supplies for grapevine production