production of grafted vines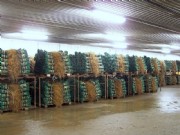 Our company is specialised in cultivating grafted vines in all current and approved types and clones here in Austria. On clients demand we are also capable to produce any desired combination of grafted vines.
Production of high phylum grape-vines
In order to take account of latest developments in the field of viniculture, we also produce all current varieties of grapes like high phylum grapevines( lenght: 50-100 cm/ 20 - 40 inches).

Packaging unit
Our grafted vines are prepared for sale as follows:
coated with paraffin wax, shoot and root crop
packages in bags, bonded and labelled
Our Pfropfreben are stored professionally at +2 C/ 35.6 Fahrenheit) in a cold storage house until delivery.
Controll of grape-vines quality and health
Our grafted vines are being controlled continuously by breeders, public authorities, our company´s professional stuff as well as during the complete production process.

Quality stands for:
purity of variety and genuineness of our grafting partners
highest possible healthiness of our plants
complete connation of graft and rootstock, completely closed root wreath
exceptionally comprehensive customer service
On client´s demand and if previously expense payment is agreed upon, we are going to start to submit grafted vines a hot water therapy. This is a preventive action in order to preserve the vinegrapes against plant diseases like flavescence dorée, agrobacterium vitis or "Stolbur phytoplasma"
Fungus species resitent varities (pdf)